---
opk Ocean 1 is an excellent fitting for sliding doors.
The sliding doors allow clear access to the content. opk Ocean 1 impresses with its high load capacity of 80 kg per door.
High-quality, ball-bearing carriages paired with modern design, as well as self-cleaning rollers by attached brushes, ensure an almost maintenance-free running culture.
Comfortable and safe mounting of the fronts by folding hinges. For 3-door cabinets, the middle door can be opened in both directions. A patented two-way damper positions the door elegantly.

The advantages at a glance
• Various design variants possible, 2-, 3-, 4-doors
• Cabinets up to 2800 mm high and 1500 mm wide doors
• Door thickness 18-40 mm
• Decorative panel, dust cover of the guiding rollers
• Easy and safe installation, comfortable height adjustment of the fronts
• Robust aluminium track in EV1
• High-quality carriages with ball-bearing plastic rollers for door leaf weights up to 80 kg for extremely light and quiet running
• Both sides damping with fixation, two-way damping with fixation of the middle door
• Anti-jump function, safety catch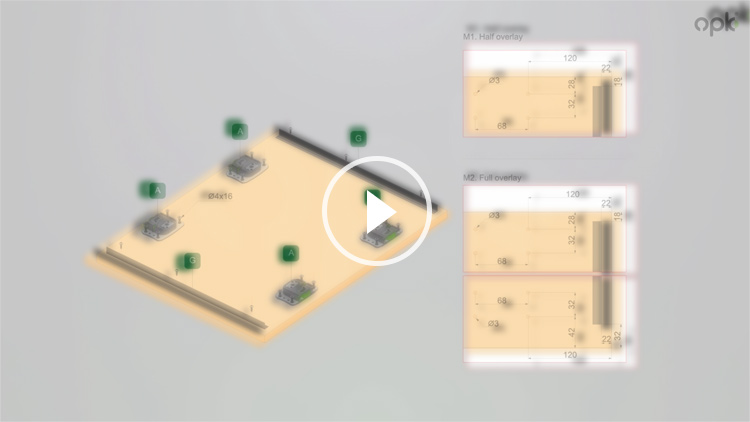 • Tested according to SGS-CSTC EN 15706:2009 Level 3
Provide solutions for air purification and prepare for your choice